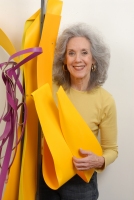 SOLO EXHIBITIONS
2017 MS17 Art Project, New London, CT
2016 Reeves-Reed Arboretum, Summit, NJ
2015 Hammond Museum, North Salem, NY (filmed interview)
2014 Walter Wickiser, New York, NY
2013 New Arts Program, Consultation Residency, Kutztown, PA
2007-08 New York University Broadway Windows, New York, NY
2007 Bendheim Gallery, Greenwich Arts Council, CT
2005 Silvermine Guild Arts Center, New Canaan, CT
2002 Midland Center for the Arts, Museum Show, MI
2001 Walter Wickiser Gallery, NYC
1999 Walter Wickiser Gallery, NYC
1998 Viridian Artists, Inc., NYC
1998 Marcella Geltman Gallery, New Milford, NJ
1997 Walter Wickiser Gallery, NYC
1997 Mamaroneck Artists Guild, Larchmont, NY
1996 Viridian Artists, Inc., NYC
1995 New York University, Broadway Windows, NYC
1993 Viridian Artists, Inc., NYC
1992 Silvermine Guild Arts Center, New Canaan, CT
1991 Southwest State University, Marshall, MN
1991 Kirkland Art Center, Clinton, NY
1990, 1987 Viridian Artists, Inc., NYC
1989 Concordia College, Bronxville, NY
1987 The Gallery, Tarrytown, NY
1980 Chappaqua Library Gallery, Chappaqua, NY
1975 Westchester Community College, Valhalla, NY
1975 Greenburgh Public Library, Elmsford, NY
AWARDS AND RECOGNITIONS
2013 New Arts Program, Consultation Residency, Kutztown, PA
2010 Art in Embassies, Tallinn, Estonia
2009 Guest Artist, Vytlacil Campus, Art Students League, NY
2009 Featured Artist, Katonah Museum Artist Association, NY
2007 Best in Show, Iona College, Female Gaze, NY
2006 Gretchen Richardson Memorial Award, NAWA, NY
2006 Juror, Bergen County Art Exhibition, NJ
2005 Elizabeth Bjorlin Memorial Award, Bedford, NY
2004 Center for Lifetime Study, Lecture- Marist College, NY
2002 Midland Center for the Arts, Gallery Talk, MI
2002
New York Times
, Footlights, Roberta Hershenson
2002 Westchester Arts Council Residency
2002 Art Students League, Artist Panel Invitational
2001 N.Y.S. Council on the Arts, AA Grants Juror
2001 Amelia Peabody Sculpture Award, NAWA
2000 Awards Juror, Ringwood Art Center, NJ
2000 Art in Embassies, Burkina Faso, Africa
2000 Liquitex, Artist of the Month,www.liquitex.com
1999 Sculpture Juror, National Association of Women Artists
1998
Art Times
Review, Cornelia Seckel, November 1998
1998 Sculpture Award, City College Art Alumni, NYC
1998 Sculptor Affiliates Award, Joseph Jacobs, Newark Museum
1997 Cleo Hartwig Memorial Award, NAWA
1995 Second Prize Sculpture, Mamaroneck Artists Guild
1995/96 Marquis,
Who's Who of American Women
,19th ed.
1995/96
Who's Who in American Art
, 21st ed.
1993 Second Prize Sculpture, Katonah Library
1990
New York Times
Review, Vivien Raynor, March, Sept.
1988 Best in Show, Gallery 54, Ivan Karp, Juror
1988 New York Art Review, Les Krantz, Publisher
1987 Sculpture Invitational, Pelham Art Center
1985 First Place Sculpture, Greenwich Art Society
1985 Honorable Mention, Sculpture, National Arts Club
EDUCATION
1976-1981 Art Students League, Bruce Dorfman
1966-1968 Corcoran Gallery, Washington, DC
1966 City College of New York, M.A.
1962 City College of New York, B.A.,cum laude
GALLERY AFFILIATIONS
Walter Wickiser Gallery, NYC '99, '01, '03, '06, '09 catalogues
National Association of Women Artists, New York, NY
State of the Arts Gallery, Sarasota, FL
The White Gallery, Lakeville, CT
Artist Equity, New York, NY
Silvermine Guild Arts Center, Exhibiting Artist, New Canaan, CT
ArtsWestchester, White Plains, NY
Katonah Museum Artist Association, Katonah, NY
PERMANENT COLLECTIONS
2015 The Hammond Museum, North Salem, NY
2015 Law Firm of Fried Frank, New York, NY
2013 Westchester Medical Center, Infusion Center, Hawthorne, NY
2011 Four Season Hotel, Baltimore, MD
2010 Kohler Corporation, Kohler WI
2009 Wilton Library, Wilton, CT
2006 Vero Beach Museum of Art, FL
2006 Jane Voorhees Zimmerli Art Museum, NJ
2005 Concordia Advisors, Avenue of the Americas, NYC
2002 Chappaqua Library, Chappaqua, NY
1997 Alumni & Friends of La Guardia H.S.
1996 Outdoor Sculpture Garden, Stamford, CT
1989 One South Greeley Avenue, Chappaqua, NY
1975 Greenburgh Public Library, Elmsford, NY
ART FAIRS
2017
Miami Art Fair
, Miami, FL (c/o Walter Wickiser)
2014
LA Art Show,
Los Angeles, CA (c/o Walter Wickiser)
2013
ArtPalmBeach,
Palm Beach, FL (c/o Walter Wickiser)
2012
Art Toronto,
Toronto, Canada (c/o Walter Wickiser)
JURIED EXHIBITIONS
2018
Small Works,
Manhattan Borough Pres. Office, New York, NY
2018
Signal
, Katonah Museum of Art, Katonah, NY
2017
A Crack Lets in the Light,
WCC, Valhalla, NY
2016
100 Years
, White Plains Hospital, White Plains, NY
2016
Thunder Umbrella,
Silvermine Art Galleries, New Canaan, CT
2016
The Tide is High,
Governer's Island, New York, NY
2015
Line Defining a Cone,
Katonah Museum, Katonah, NY
2013
Abstract Expression
, The White Gallery, Lakeville, NY
2013
Placemaking: Re-envisioning White Plains
, White Plains, NY
2012
Sculpture: On and Off the Wall,
ArtsWestchester, NY
2011
A Spin on Green,
Katonah Museum Artists, NY
2011
Art of the Northeast,
Silvermine Galleries, New Canaan, CT
2010
Beyond Botanicals,
Flinn Gallery, Greenwich, CT
2010
Fresh Pics,
Ridgefield, CT
2009
Rubbish! Art and the Ecosystem
, ArtsWestchester, NY
2008 Norman Rockwell Museum,
In Full Bloom,
MA
2007-2009 Walter Wickiser Gallery, Sculpture Show, NY
2006 Walter Wickiser Gallery, Two Person, New York, NY
2005-2006 GE World Headquarters, Fairfield, CT
2005-2006 Haddad/Lascano Gallery, Great Barrington, MA
2005 New Arts Program, Invitational, Kutztown, PA
2005-03 CCNY Biennial, NYC
2004-05
Winter Solstice III, IV,
The Studio, Armonk, NY
2004 Art Students League, Members Exhibition, NY
2004
Gallery Artists,
Walter Wickiser Gallery, NY
2004
Before and After, Imaging Public Art,
Rosemarie Erpf, NY
2004 Katonah Museum Artist Association, Dede Young, NY
2004 Texas A & M University, TX
2004 Poughkeepsie Art Museum, NAWA, NY
2004
The Spark Within
, Roseline Koerner, Curator NAWA, NY
2003
Of Myth and Metaphor,
Walter Wickiser Gallery, NY
2003
Three Sculptors,
Henaine/Miranda, Port Chester, NY
2002 Barrett Art Center,
New Directions
Joan Young, Juror, NY
2002 September 11,
Response Show
, Pelham Art Center, NY
2001 Bristol Art Museum, Rhode Island
2001 Katonah Museum
, Breaking the Rules,
NY
2001 Grounds for Sculpture, NAWA, Hamilton NJ
2000 Brenau University, Invitational, Gainsville, GA
1996 JCB International Credit Card Co., Ltd.,
1994 Onward Gallery- Nihombashi - Tokyo, Japan
1999 - 1984 Numerous Exhibitions
TEACHING EXPERIENCE
1990-2012 Art Center of Northern New Jersey, NJ
1993 Art Students League, Summer Session